Recipients of the #Fluxing Award and the Jack "Fluxare" Hytner Memorial Scholarship
We encourage all students to apply, and for others to help spread the word about this scholarship and continue to influence those around you in a positive way! Remember to use #JFHScholarship on all social media platforms to be showcased on our SHARE page.
Congratulations to the March 2022
Jack "Fluxare" Hytner Memorial Scholarship Recipient:
Maria Jones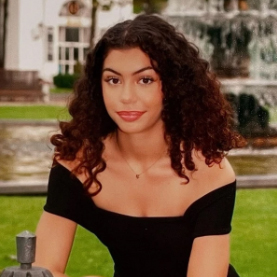 Hello! My name is Maira Jones, and I am a C/O 2022 senior from Alexandria, Virginia. I currently live in Wiesbaden, Germany as my dad is employed with the US Army! I am an avid traveler as I have lived in Germany for almost 6 years, and have visited 20 different countries worldwide. I plan to return to Virginia, Maryland, or Texas for college to major in computer science. I currently have a 4.33 GPA for my Senior year! I have earned both the National Hispanic and National African American scholar awards from the College Board, as well as I am an AP Scholar. I have also been diagnosed with Ulcerative Colitis, a chronic autoimmune disease.
My future career goal is to become a software engineer, and I have been accepted into the VCU School of Engineering, where I am currently planning to attend in the Fall of 2022. I have always had a passion for computers and programming, and started getting involved with programming around 6 years old. I am the lead programmer of my school's FRC Robotics team and plan to be involved in robotics in college.
Some of my interests and hobbies are volleyball, robotics, softball, culinary arts, photography, and astronomy. I have played both Varsity and Club volleyball for the last 4 years, and I have been playing on the Varsity softball team for the last 4 years, in addition to the 4 years I played previously. I am the Vice President of the Senior class, as well as the Senior Editor of the Yearbook, Co-Founder and Vice President of the POC Student Union, and a member of the Student Ambassadors, Culinary Club, and Female Empowerment.